Yvette Pegues Shares the Art of Adaptability Through Her Journey on Wheels
Editor's Note: Yvette Pegues already had a degree in engineering, but with one child and expecting another one, she wanted to know more about parenting and teaching her children. Then in 2010 after she graduated from Kennesaw State University in Georgia with a secondary degree in early childhood education, she went with her church to Haiti to help with relief efforts after the earthquake. (http://woodstockmissions.com/live/yvette-pegues/16/)  That's when her world began to change.

A Fulltime Student, a Fulltime Employee at IBM and a Mom
When I returned from Haiti, I learned I had an opportunity to apply for a doctorate scholarship at Harvard University. I already had a degree in computer network systems and engineering and was recruited by IBM out of college. I was a worldwide program delivery manager for Canada and Asia and a Microsoft certified engineer. I loved breaking things and then putting them back together and enjoyed science, technology, math and engineering.
When my first child, Isaiah, was born, IBM allowed me to work from home. I didn't feel I had the skills to be the kind of mom I wanted to be and didn't want to duplicate my childhood with my children. I decided the best way to learn to be a great mom was to get a degree in early childhood education, which I did while working from home. Then my husband, Tharrow, who was a network administrator for IBM, and I had a second child, Elijah. Since I was required to have 1,000 hours in training to get my degree, I had worked at my son's school part time, while going to class and working fulltime as an engineer for IBM. I got my Montessori certification and received various honors.
I Was on the Fast Track When I Hit Bottom
Once I received my Harvard scholarship, we made plans to sell our home. But 6 weeks prior to our moving, the right side of my body went completely numb, I felt as though fire was rushing through my veins, and I experienced excruciating pain.
The emergency room neurologist ordered a brain scan. He came to me and said, "Don't freak out."
Then, he told me that I had a condition called Chiari that is sometimes an inherited disease. My brain had fallen into my spinal column, herniating it and causing trauma in my head. The pressure I was feeling in my head was the fluid from my brain trying to break through my skull. I needed decompression surgery to take the pressure off my brain.
I realized this problem was probably what my mother had died of 2 years earlier, because 90 percent of the time this condition is passed on from a mother to her daughters. I took comfort in the fact that I had two boys.
Since the doctors told me this was a deteriorating condition, I elected to have brain surgery – a craniotomy to cut a hole in my skull's backside, insert a bovine patch and remove pieces of my spine to make room to let the fluid pass through from my brain to my spine. I had walked into the hospital but not out later due to this condition that left me with a permanent brain and spinal cord injury.
I'm considered a spastic paraplegic. Since my spasms were very violent, I was admitted to the Shepherd Center (www.shepherd.org). My legs would jump and kick involuntary, and I couldn't walk, push up or stand up, due to a lack of strength in my core. I also had vocal problems, making speech difficult. But, because of my faith, I knew I wasn't totally helpless. When I learned that Isaiah, who was 5, had asked his teacher, "Is my mommy going to die?" I decided I would only take my medication when my children were at school to keep them from worrying. When they were at home, if I had to, I decided I'd tie myself in a wheelchair to be present with them. I worked harder to sit up longer and to move around in my wheelchair.
I had learned from my education courses though that I could help my children adapt to my "new normal."
I allowed them to go to my doctor's appointments, touch my stitches, get in my wheelchair and experience as much of my injury as they felt comfortable doing. My younger son Elijah was interested in everything about my injury. My boys wrote and published a book titled, "My Mommy Had Brain Surgery and I'm Okay." The Shepherd Center helped to promote the book. We heard from other people about how this book helped their children prepare for living with a parent with a disability.
Proceeds from the book are being put into a college fund for my two sons, who have been asked to do speaking engagements. Writing the book has made them better speakers and readers and helped them gain self-confidence. When I went to their athletic events in a wheelchair, other students picked on my sons and bullied them. But now, my boys tell their friends to buy their book.
My Book "The Art of Adaptability"
IBM put me on short term disability while I was recovering from all my surgeries, hoping I'd eventually be able to return to work. However, 9 months after my injury, I had a neurological evaluation that revealed I no longer had executive function. This term meant the left side of my brain – the logical side – was wiped out. This side of my brain was what I used as an engineer.
The doctors asked themselves two questions, "Do we help her think?" or "Do we help her walk?"
I was so spastic I couldn't even use a wheelchair. I spent my time at the Shepherd Center becoming more mobile. I couldn't return to my job at IBM, but my faith and my husband, who was and still is my knight in shining armor, helped me get through all these disasters and setbacks.
In the summer of 2015, I published my first book, "The Art of Adaptability" http://amzn.to/1JSVcAO. This book came from the notes I took while waiting in doctor's offices and was more of a workbook than just a read – something I would like to have had. My coping mechanism for my injuries was journaling.
I also wanted to continue to take my temperature mentally, emotionally and physically to lessen the impact my medical condition was having on my children, who had a dream board of things they wanted. One of their dreams was that Mommy could make mac and cheese for them – which I did.
"The Art of Adaptability" is written, so that the person who gets the book can take this workbook along with them on their journey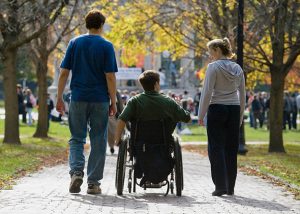 from becoming disabled all the way through the process of learning their new normal. I try and give advice on what I would've done differently, and how I would have handled things if I had known what to do. My hope is that this book will be the newly injured person's literary friend as they recover. The items mentioned in the book must be dealt with and handled within the first 6 months of a person's injury, or the patient will lose resources, family and friends.
The first is for the patient to do – maintain his/her own identity.
The second is for your relationship with each of your family members and to help the people closest to you understand what's going on with your body.
The third is for developing a schedule for how long you'll need help. I had no prognosis of when I'd get better. People had to schedule their lives. A schedule helps you to map out when you'll need who and for how long.
The fourth is forgive. For instance, I could have had anger or bitterness toward my mom when I learned that my condition was a genetic disorder. If you're in a hit-and-run accident, can you forgive the person who's hit you? This step helps you realize that forgiveness is more for you than the person you're trying to forgive. See my webpage at www.YourinvisibleDisability.com.
I Lost My IQ, So I Focused on my EQ
I'm still recovering. I don't have all the answers. I decided to start working in schools with my early childhood education degree. In retrospect, I realize that although I had a high IQ, I never paid much attention to that, because neither my mother nor father could read or write. I'm the first generation in my family to graduate from high school and to graduate from college.Education has kept me grounded for a long time.
Since I lost so much of my IQ (Intelligence quotient), I started to focus on my EQ (emotional quotient), a scientific term that most people equate with emotional intelligence. The more I learned about my EQ, the better I was able to transfer my conversation and my thoughts to my right brain. When I tried to think, remember things and do mathematical computations with my left brain, I'd stutter and become very nervous.
The left side of my brain hasn't recovered. I wanted to teach high school students how to think with the right sides of their brains, before they transitioned into work, and I wanted to encourage peer relationships to make sure that students with disabilities received everything they needed while they had the support of the school and state. Then they wouldn't be just smart, but would have increased their social etiquette and social intelligence.
I got involved in the Ms. Wheelchair USA pageant through the Georgia pageant.
I wasn't interested when asked and said, "I'm not pink." For me, pageants were about being pink and a girly-girl.
I was always a tomboy and very physically active. I was told that the pageant was based primarily on an individual's talent, which in my case was community service, and how my platform would affect change. I realized this pageant could help me reach beyond my city and state and have a positive impact for people with disabilities.
Filling out the application was hard for me, due to the damage to my left brain, but I won the Ms. Georgia Wheelchair pageant and eventually won Ms. Wheelchair USA 2014 – 2015 (www.mswheelchairusa.org). I'd never met so many beautiful, glamorous, strong and professional ladies in wheelchairs from all over the world as at the pageant.
At the end of the pageant, I was approached by one of the volunteers who had tears in her eyes as she told me, "Do you realize you're the first woman of color and the first Georgian to ever wear this national crown?"
My Service Platform – a Legacy of Literature
My platform was the legacy of literature, since neither of my parents could read or write. I wanted to publish books for children across the United States, primarily for children with disabilities. However, since the disabled community was and is all about inclusion, I changed my platform to help every child between the ages of 7 – 17 to get their books published about turning their storms into stories.
Currently schools, groups and families are participating in this project. We want to develop a library of books written by children for children to explain what happens, how they get through the storms of life, and how they come out positive on the other side after the storms.
While getting this project going, I had an adult come up to me who said, "I want to write a book, but I can't read." I told that individual, "Just because you can't read doesn't change how important your story is. We have retired teachers and publishers who are volunteering to help the children get their books published. They can help you."
Dream, Write, Hope University is hoping to create an almanac or a catalog with the first 10,000 books written in it to give the opportunity to buy them. The youngsters then can put on their resumes that they are published authors.
You can find out more about the children publishing books and an application for volunteers and individuals who want to donate to this project. We're mainly working through universities and religious organizations to get these children's books published. Anywhere I go or speak, I take these individuals' books, so their dreams and hopes go with me.
The PGA (Professional Golf Association) and Me
As Ms. Wheelchair USA, I attend events all over the country. At the event where I was named Transforming Women Entrepreneurs' Woman of the Year, one of the people attending the event was a lady who was the head of Diversity and Inclusion for the PGA. The PGA wanted to get the game of golf into the hands of people with disabilities, people of color and women. She said, "We want people with disabilities to get golf ready and learn that they have access to golf courses nationwide."
I've been working with local general managers and store owners to order an exoskeleton to get my knees out of the way, so I can play golf. I'll be followed by a camera crew, and the PGA will put these videos on the www.pga.org/membership website.
I also will be blogging after each of my six sessions. I'll be using three types of equipment that the PGA has to help people with disabilities learn to play golf. As I have updates, I'll be posting not only on my website www.YourinvisibleDisability.com, but also on my web page www.yvettepegues.com.
I'm excited about this program because I've always been physically active.
I'm looking forward to getting some sun on my face and learning to do something that most people think people who ride wheelchairs can't do. I'm also excited because I've become the spokesperson for Camp Dream (http://www.campdreamga.org), an outdoor summer recreational camp for children with disabilities.
I'm Becoming More Independent with MV-1
I was approached by Mobility Ventures to try out one of their factory built, purpose built cars for people with mobility needs. For the first time in 3 years, I'll be able to take a driving test, because this car has neurological features, and I am certified to use hand controls. Standard equipment is an under body ramp. With the MV-1, I'm totally independent, and I can board and unboard the car. With no seat on the driver's side, I can pull my wheelchair into the MV-1. I've become very active, I have many interests, and I'm doing all I can to help encourage, promote and be an advocate for people with disabilities.
About the Author: John E. Phillips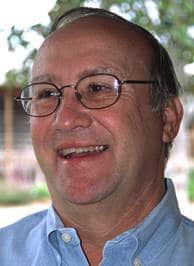 For the last 12 years, John E. Phillips of Vestavia, Alabama, has been a professional blogger for major companies, corporations and tourism associations throughout the nation. During his 24 years as Outdoor Editor for "The Birmingham Post-Herald" newspaper, he published more than 7,000 newspaper columns and sold more than 100,000 of his photos to newspapers, magazines and internet sites. He also hosted a radio show that was syndicated at 27 radio stations; created, wrote and sold a syndicated newspaper column that ran in 38 newspapers for more than a decade; and wrote and sold more than 30 books. Learn more at www.johninthewild.com.