Seasoned Travel Bloggers Share EZ-Access Advantages
Note: Wheel:Life caught up recently with Barbara and Jim Twardowski, a married couple who write about disability and travel topics. We captured their perspective on the need for portable ramps when visiting, traveling and generally on the go.
"When my new friend, Monique, recently invited us to attend a holiday party at her home, my first concern was about accessibility. Are there steps to the front door? If so, how many and how high? What is the width of the door? How big is the porch? Is there an alternate entrance to the home," Jim explains.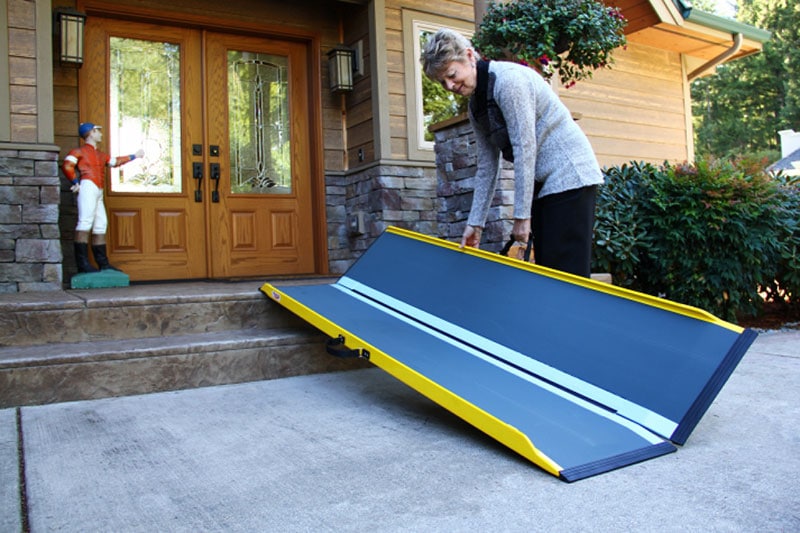 After a brief discussion with Monique, the Twardowskis realized their three-foot-long portable ramp would not be sufficient to navigate the four steps up to their friend's large back deck and through the doorway. Living in the New Orleans area, they frequently encounter raised homes and had been contemplating buying a longer ramp.
A Quest for Better Travels Led to EZ-Access
"I began searching for ramps online and found the Suitcase Singlefold GF (Graphite Fiber)," Barbara shares. "I ordered the biggest size they make."
The Suitcase Singlefold GF portable ramp was introduced to consumers last fall. Made by EZ-ACCESS, the company says it is the lightest folding ramp in the industry. It comes in five sizes ranging from 29 to 82 inches long and weighing between 7.5 to 21 pounds.
"Our new 6-foot, 8-inch ramp only weighs 21 pounds. That is amazing when compared to our old 3-foot metal ramp which weighs 20 pounds," Barbara continues.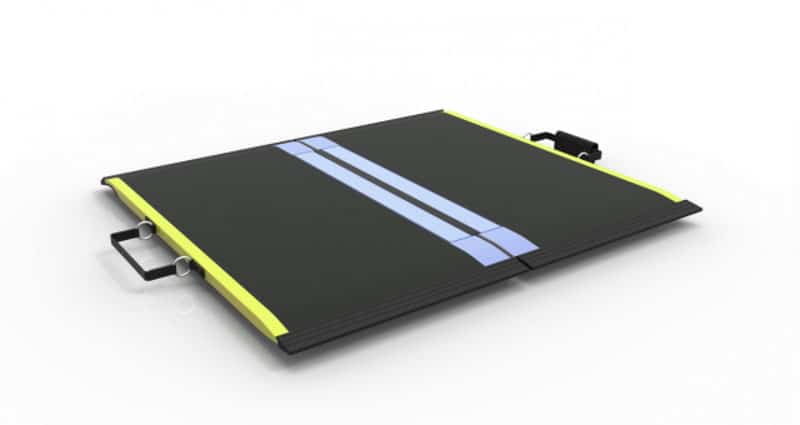 The Suitcase Singlefold GF Portable Ramp
"Because I have weak hands, my family members or friends carry my ramp and set it up for me. The new ramp is so light my neighbor's 10-year-old daughter can assist me.  Despite the length of the ramp, it can be tucked at an angle inside my wheelchair-accessible minivan. The ramp folds in half for transporting and storage, and the ergonomically designed handle makes carrying it more comfortable," Barbara adds.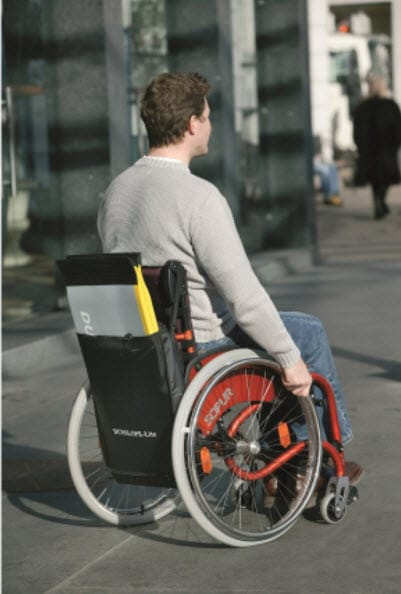 The Suitcase Singlefold (GF) is designed to support up to 650 pounds. The gray slip-resistent coating provides good traction for heavy power wheelchairs, and bright yellow striping on both sides of the ramp aids in visibility for navigation.  More features include:
The lightest folding ramp in the industry, the Suitcase Singlefold GF Ramp utilizes industry leading technology to provide the ultimate weight capacity at the lightest weight possible.
Ergonomic Handles for the Single-Fold Ramp
Ergonomically-designed handles make your Suitcase Singlefold Ramp easy to carry anywhere. The handles for the single-fold ramp feature a durable design, so you don't have to worry about them breaking as you carry your Suitcase Singlefold Ramp.
Slip-Resistant Tread on the Single-Fold Ramp
Mobility devices can retain traction in all weather conditions with the Suitcase Singlefold GF Ramp's slip-resistant tread.
The Suitcase Singlefold GF Ramp's single-fold hinge runs the full length of the ramp and ensures the ramp is strong and safe. The single-fold hinge also helps protect against pinching and ensures the ramp is easy to set up.
Last year, EZ-ACCESS began offering a lifetime warranty on all its ramps. This limited warranty applies to the original purchaser only and is non-transferable. Proof of purchase is required.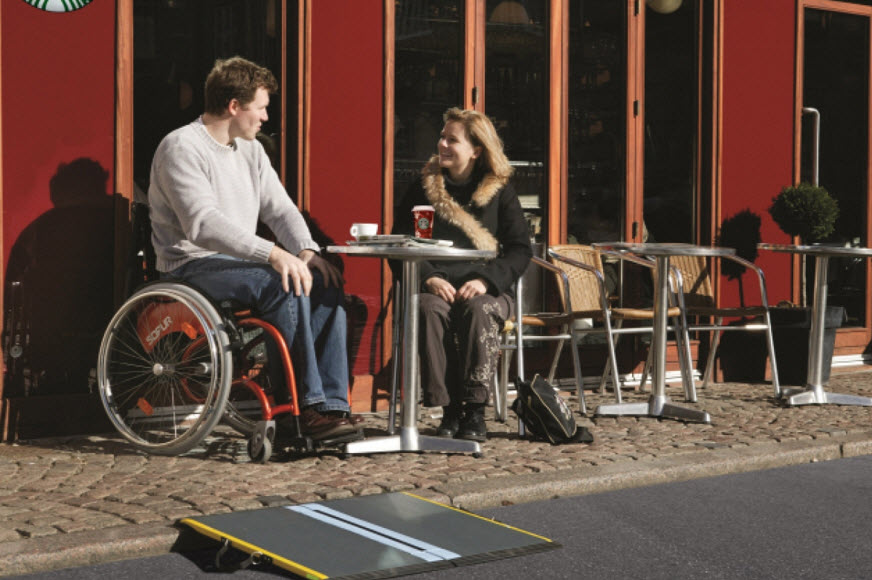 What People Are Saying
"I'm so impressed with this product, I plan to replace my smaller metal ramp with the oh-so-much-more-portable Suitcase Singlefold (GF)."  — J.T.
"I found this board and I find It really useful & it helped me out much. I hope to give something back and aid others like you helped me." — John
How to Get Yours
EZ-ACCESS sells their ramps through distributors.  See where to get the portable ramp here: http://www.ezaccess.com/catalog/product/94/45/suitcase-singlefold-gf-graphite-fiber-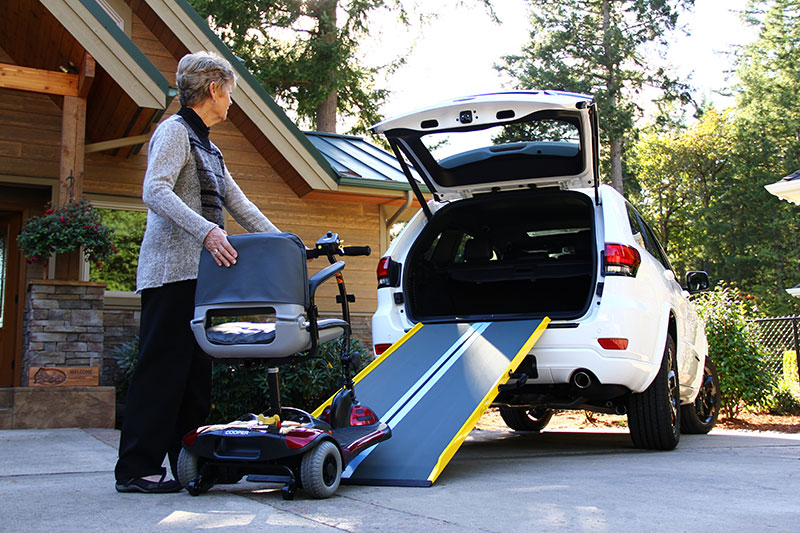 About EZ-Access
Family-owned and operated for 30 years, EZ-ACCESS is the leader in accessibility. We are dedicated to providing the highest quality, dependable and durable products to help you live your life to the fullest. Driven by our commitment to enrich lives by providing access to life beyond barriers, EZ- ACCESS®, a division of Homecare Products Inc., was founded in 1984 by Glenda Everard and her daughter, Deanne Sandvold. In 1988, son Don Everard joined the family business, bringing with him marketing expertise. This trio was the driving force behind the expansion of the ramp market, having pioneered the industry through the marketing and manufacturing of EZ-ACCESS portable wheelchair ramps.

EZ-ACCESS operates out of two locations. Headquarters and West Coast manufacturing are located in Algona, Washington, 15 miles south of Seattle and East Coast manufacturing is located in Morganfield, Kentucky, where the company reinforces its family-based philosophy with customers, employees and community alike. The two manufacturing facilities enable faster and less expensive deliveries across the nation to all their customers. Learn more at www.ezaccess.com.