Quadriplegic Ather Sharif Reprograms Himself After SCI
Editor's Note: Ather Sharif was a 23-year-old college student at the University of North Dakota, when on March 15, 2013, he left for spring break with three of his friends. Sharif already had finished his undergraduate degree in software engineering and was working on his master's degree in technology. Asleep in the back seat of his friend's car, he dreamed of being a researcher in the field of computer science and an entrepreneur with a tech company. His life changed forever when the car he was riding in hit a slick spot in the road.
Ather Sharif Woke Up to a Bad Dream
I didn't have on my seatbelt. My head had hit the window of the car, breaking the window as well as my neck. I was lucky I didn't have a head injury. When I woke up, I was lying in a pool of my own blood. Initially, I couldn't move anything. I lay there until an ambulance arrived. I was in and out of consciousness, because I was in so much pain. I remember waking up feeling the pain and then passing out.When I woke up after surgery in my hospital bed, I saw some of my friends standing in front of me. At that time, I wasn't aware of how a spinal cord injury would affect me.
I never had met a person who had a spinal cord injury.
I didn't know what the life of a person with a spinal cord injury would be like. I was told I probably never would walk again, but that I might get some of my function back in my other extremities in the next three years. My injury was an incomplete one. In the beginning, I was paralyzed from the neck down and had no function below my neck.
While I was in the hospital, I was on a wide variety of pain management and sleep management drugs. Finally, when not under the influence of the drugs, I tried to sit up, but I couldn't. I attempted to move my hands, but I couldn't. My feet and legs didn't function either.
After the wreck, I couldn't think clearly. By the last week of March, I was cognizant enough to think about the accident, what had happened to me, and what my future life might be like. Up until that time, because of the medicine and my injury, I was sleeping about 20 hours per day.
I had dreamed of being a computer programmer my entire life. I had gone to college to learn all I could about computer science and programming a computer. I had trained my fingers to take the thoughts from my brain and input them into the computers. But now being paralyzed from the neck down, neither my fingers nor any other part of my body seemed to work.
Once I realized I wouldn't be able to use the computer or type, I was devastated. I wondered if I ever would be able to do anything. My main goals in life had been to create software – new and different software – and make a lot of money using the skills I'd learned in college.
For me, being able to get function in my hands was far more important than being able to walk. I was okay without being able to walk, but I wasn't okay with not being able to use the computer.
Ather Discovers the Sameness in SCI through His Unique Injury
My spinal cord injury was more than depressing to me, because I couldn't use my hands. I was devastated. I felt that all my study and all the work I had done – and loved to do – were no longer possible. About a month after my injury, I slowly began to get some motion with my biceps and a small amount of hand function. In April, I went to Magee Rehabilitation Hospital in Philadelphia, where the therapist pushed me to try and regain more function.
The doctors in Philadelphia examined me and determined I needed two more surgeries to better stabilize my neck. I went through another long process of recovery. But after the swelling had gone down from my third surgery, I started to get more function in my hands.
While I was recovering at Magee, I learned that there were many different types of spinal cord injuries. Learning how to transfer and do daily tasks was really difficult, because very few people in the world would have a spinal cord injury just like yours – every SCI is different.
My physical therapist would show me how to transfer from my bed to my wheelchair, but I was unable to do that transfer the same way he did. I realized that many times, physical therapists didn't realize they were using muscles that you couldn't use because of your injury. They'd show me techniques that people with spinal cord injuries used to do a transfer, but the techniques they were showing me often were the ones they had learned from someone who had a different spinal cord injury than I had.
I learned that everyone who had a spinal cord injury had to learn how to transfer and live their daily lives based on the specific muscles they could use. So, there wasn't a standard process that everyone with a spinal cord injury could use to get in and out of the bed.
I became fascinated with this issue. I recognized that every person had to learn how to transfer in a different way, and how to perform daily tasks based on the muscles they had, and the muscles that didn't work.
Most people with SCI have a unique set of issues to overcome that is specific to their injury level, location and completeness.
The amount of function they have and the muscles they can use are different with each individual. I decided I wanted to make videos of people with spinal cord injuries transferring and performing daily tasks. I wanted to match the videos to patients who almost had the exact same injury as the person in the video. I'd learned that videos were an excellent teaching aid for people with specific spinal cord injuries to learn the skills they needed to perform many of the daily tasks they wanted to accomplish and to learn faster and live better.
Ather Designs a Destination Site for SCI Assistance
In May 2014, I started SCI Video Blog, a collection of tutorial videos posted by individuals of all different levels of injury to visually demonstrate how they perform their daily activities. People can search for videos of people who have the exact or almost the same injury they have.
For instance, if you're female and have the same exact injury and/or function as a male does, the way the man transfers and goes about his daily tasks will be different from the way a female with that same type injury is able to transfer and perform her tasks. Many women don't have the same body strength and functionality that a man with that same injury may have.
Our goal is to provide a place where men and women with spinal cord injuries can find other individuals with spinal cord injuries that are exactly or almost exactly like they have. They can see how these individuals move and function. They can learn to transfer and perform other daily tasks by watching someone just like them solve the problems they're now facing.
We're collecting videos from people around the world who have various types of spinal cord injuries. They are the teachers. They demonstrate and explain how they perform daily tasks, based on the injuries and the amount of function they have.
Here's an example below of the kinds of videos you may find on the SCI Video Blog.  In this video, a quadriplegic woman demonstrates how to put on make-up:
 The Future of SCI Video Blog
Computer science is a learned skill. In the upper levels of technology, computer scientists focus on problem identification and how to use technology to solve those problems. After my spinal cord injury, I didn't shut down the way I'd been trained to think.To set-up the SCI Video Blog, I had to overcome several problems.
The first major problem was how to find different individuals who had various types of spinal cord injuries and ask if they would be willing to share in a video blog how they learned to overcome certain problems. I reached out to spinal cord injury support centers all over the United States and in every country possible. I told people what I was trying to do and asked them to help me gather the videos needed to set up the online support center for people all over the world.
If a person with a spinal cord injury could see and hear another person with the same type injury tell how they learned to perform daily tasks, I believed they could teach them how they did those tasks. Then the learning curve for maximum function from the injury could be shortened dramatically.
Contacting all these rehab centers has required a huge effort and is a continuing project that I'm still managing. This summer, I plan to make a much larger global effort and have the website available in 18 different languages. Then, people with spinal cord injuries from other countries can see and hear in their own languages how people are solving function problems.
Since launching the SCI Video Blog, we already have about 50 videos on it and have video subtitles in English, French, German and Spanish. So far, I'm the only person funding this project. But by this summer, I'm hoping to involve major companies and corporations to help us move farther and faster to make the SCI Video Blog bigger and have the ability to reach more people throughout the world.
My hope is to continue to build this program so people with spinal cord injuries all over the world will be able to get back to more normal lives like they had before their injuries.
Ather Sharif Defines a New Dream of Hope and Help
Before my accident, I was an athlete, ran track and played soccer and basketball. While in my hospital bed, I believed that my career in computer science was over, and I also felt fairly certain that I'd never be able to play sports again. However, I'm now heavily involved in playing quad rugby.
I knew I had to play sports in some way, or else my life would seem empty.
I can play quad rugby with the type injury I have. It's very intense, very competitive and physical – a full contact sport – and keeps me involved in the game. When I'm playing quad rugby, I'm not thinking about anything except playing, I have no problems, I have no fear, I have a physical and mental escape, and I've left the rest of the world behind.
Also, before my injury, I had a girlfriend named Justine. After my accident, I didn't want her to be around me, since I thought that asking her to deal with me and my spinal cord injury wasn't fair. But Justine kept telling me that things would be okay. I eventually began to believe that Justine was right – that I needed to stop worrying about our relationship and start thinking about a positive future. We went through some very emotional, stressful and frustrating times together. However, as I moved toward being more independent and having a normal life, many of our problems seemed to go away.
Our relationship has continued to get better and better. Wrestling with relationship issues is really difficult right after a spinal cord injury. I went through all the questions that a newly injured person asks such as:
"What am I going to do?"
"Will people see me in the same light as they have before I was injured?"
"Am I a burden to other people?"
"Can I possibly bring anything positive into other people's lives?"
"Am I taking people I care about away from what they like to do, and what they want to do?"
"Am I completely destroying their schedule and their lives?"
I've learned that in time those stressful issues have gone away. I've found that Justine is as strong, if not stronger, than me in the way she's handled my injury.
I'm often asked, "What's in the future for you?" I have even bigger dreams than building SCI Video Blog into a worldwide resource for the spinal cord injury community in 18 different languages. I want to attack problems and try to solve them for others with physical disabilities.
My master's degree program has a concentration toward technology, so I started another organization – EvoXLabs (www.evoxlabs.org), (www.facebook.com/evoxlabs) – that's involved in researching web accessibility for people who are blind, deaf and with other problems – to enable them to use the internet. I also create free and accessible websites for nonprofit organizations here in Philadelphia.
In my immediate future, I hope to finish my master's degree program either in December 2015, or May 2016. In April 2015, the EvoXLabs group and I organized a programming contest as part of the Philly Tech Week, when Philadelphia held about 200 events, with approximately 125,000 people participating.
We created a programming contest for high school students and paired up people who were blind, people who were deaf and people who had physical limitations with students to help students understand the limitations that these individuals faced. They tried to come up with technical solutions to solve their individual problems with respect to using the internet.
I haven't decided yet what I'll do after I complete my master's degree. I may begin working on my Ph.D. and continue my dream of being a researcher in computer science. I also want to be an entrepreneur in technology. I was awarded a scholarship by IBM to attend the International Worldwide Web Conference in Florence, Italy, and will be there for a week.
I also have received a scholarship from Google that covers my tuition fees for my next year of school. This summer, I'll spend four days on the Google campus in California.
My life and future are very exciting. The one thing I know for certain is that I never plan to stop learning about technology. My continued mission is to learn how to integrate more technology for more people with a wide range of disabilities. I always enjoyed computers and programming.  I want to serve the disabled community by doing what I love to do with technology.
You can follow Ather Sharif at www.athersharif.com.

Additional Resources From Wheel:Life on Relationships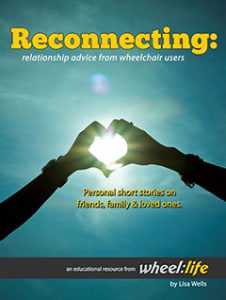 Within Reconnecting: Relationship Advice from Wheelchair Users, readers will hear from people who use wheelchairs as they share their perspective on friends, family and relationships including dating, marriage and parenting.
Author Lisa Wells shares real-life examples and success stories throughout the book based on her lengthy career that includes ongoing interactions with disability advocates, non-profit supporters and peer support group members.
Reconnecting: Relationship Advice from Wheelchair Users features interviews with:
Graduate student & quadriplegic Ather Sharif about connecting on a college campus
Amputee Thomas Morris on connecting through his unique appearance and personality
NSCIA [Buffalo, NY chapter] President Natalie Barnhard who connects Wheels with Wings
Paraplegic Todd Robinson who explains his family connection through the joy of adoption
Quadriplegic Ashleigh Justice who connects on the quad rugby field and as a young mother
About the Author: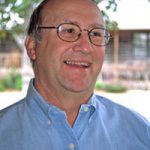 John E. Phillips For the last 12 years, John E. Phillips of Vestavia, Alabama, has been a professional blogger for major companies, corporations and tourism associations throughout the nation. During his 24 years as Outdoor Editor for "The Birmingham Post-Herald" newspaper, he published more than 7,000 newspaper columns and sold more than 100,000 of his photos to newspapers, magazines and internet sites. He also hosted a radio show that was syndicated at 27 radio stations; created, wrote and sold a syndicated newspaper column that ran in 38 newspapers for more than a decade; and wrote and sold more than 30 books. Learn more at www.johninthewild.com.