Planning for Severe Weather or Disasters When You Have A Disability
As the storm season emerges this spring, we're all taking note of ways to stay safe during severe weather or in times of natural disasters.  Planning for the unplanned is a little harder when you use a wheelchair.  That's why we've put together the following resources to help you prepare for any emergency situation.
If you or someone close to you has a disability or other access or functional need, you may have to take additional steps to protect yourself and your family.  The key to staying safe is planning ahead.
Find out about individual assistance that may be available in your community. Register in advance with the office of emergency services, the local fire department, other government agencies or non-profit groups. Tell them of your individual needs or those of a family member and find out what assistance, help or services can be provided.
According to FEMA [Federal Emergency Management Agency], individuals with a disability should keep the following in mind:
•Consider how a disaster might affect your individual needs.
•Plan to make it on your own, at least for a period of time. It's possible that you will not have access to a medical facility or even a drugstore.
•Identify what kind of resources you use on a daily basis and what you might do if they are limited or not available.
•Build A Kit with your unique consideration in mind.  What do you need to maintain your health, safety and independence?
FEMA offers a planning resource for people with disabilities that includes what to include in your Disaster Kit. Get your copy at: http://www.ready.gov/sites/default/files/FEMA_Disabilities_R-6_web_june2012.pdf
The Red Cross also offers an educational brochure, Disaster Preparedness for People With Disabilities, that can be read online at: http://www.hhs.gov/od/documents/disabilityAmericanRedCross.pdf
The Red Cross booklet contains information that can help you organize a personal disaster plan and includes plans for the care of service animals and/or pets during a disaster. This booklet is designed with checklists and extra space for you or your helper to use to organize information that will help you prepare for a disaster.  Some of the booklet's highlights are listed below.
Important for Wheelchair Users
After a disaster, your environment may be very different. Exits may be blocked, sidewalks may be impassable.
If you have a service animal, such as a guide dog, hearing dog, or personal-care monkey, the animal may be hurt or too frightened to work after a disaster.
Your usual ways of getting groceries, medications, and medical supplies may be disrupted. It may take several days before stores reopen, so you may not be able to readily replace even basic items related to your disability.
There could be so much debris on the streets that it would take weeks to clear it away. This could leave you stranded at home and keep caregivers from reaching you.
After a disaster, you may need to ask for help to do things you usually would have done independently.
If you are prepared ahead of time, you will be better able to cope with the disaster and recover from it more quickly.
The Disability Resources website offers a more comprehensive list of resources and information for people with disabilities, access it at: http://www.disabilityresources.org/DISASTER.html.
Download Discovering: Accessible US Travel Guide for Wheelchair Users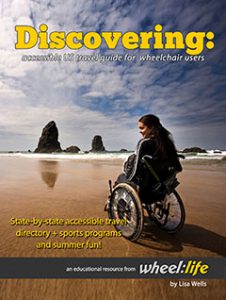 In this book, you'll discover a state-by-state directory of accessible travel destinations across the United States.
These accessible travel suggestions are part of the Get Out & Enjoy Life [GOEL] program that is a joint educational initiative between Wheel:Life, a global community of wheelchair users, and SPORTS 'N SPOKES magazine, published by the Paralyzed Veterans of America.
More than 70,000 wheelchair users from 108 countries took part in Wheel:Life resources in 2014.
You'll find that each chapter of this book provides easily-accessible destinations that are fun and engaging for friends who use wheelchairs. Discovering is an easy, encouraging read that will help you explore all kinds of travel destinations and family fun spots, whether you are new to using a wheelchair or a seasoned pro.
Please note that not every state in the US is featured in this travel guide, just the ones that we have included in our GOEL program to date.