Paralympian Augusto Perez – The Cancer Warrior
Editor's Note: Our friends at SPORTS 'N SPOKES magazine are sharing a series of articles with Wheel:Life to help you discover and enjoy wheelchair sports! We'll be posting the highlights with a link to the full story below. 
They call him The Cancer Warrior.
When Augusto Perez makes his third appearance as a Paralympian for Team USA in Sochi, he will be fighting for much more than a gold medal. His true motivation to compete in both the biathlon and Nordic skiing starting March 8 is simple: It's all for his family.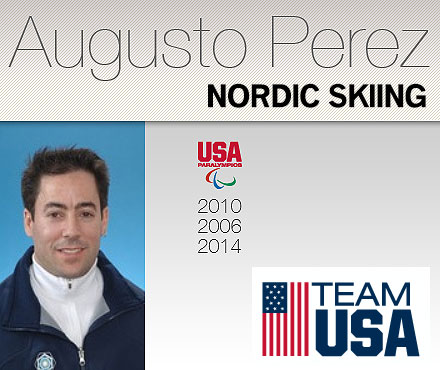 "I don't race for the medal; I don't race for the glamour or anything else. I compete in this sport because I enjoy competition," he says. "I promised my wife that from the last two Games, the rings were going to my kids; this ring goes to her. [The rings] are there for my kids and for my wife."
Hearing Perez talk about his family assures they — his wife of 15 years, Brenda, and his 9-year-old twin son and daughter, Iker and Ainoa — are his passion and ultimate driving force. They are why he decides to train as hard and for as long as he does — often at a local Syracuse, N.Y., gym. They are the reason he has established a fundraising campaign, to ensure that the financial burden resulting from his surgeries and treatments won't be quite so heavy for them when he is gone. Quite possibly, they are a large factor in why Perez has far outlived doctors' expectations.
At the age of 41, Perez has been diagnosed four times with what is commonly called soft-tissue sarcoma four times, and a Stage IV cancer patient since 2002. By his own admission, Perez says that this form of cancer rarely responds to chemotherapy and radiation treatments, and after a third diagnosis in 2003, it claimed his left leg above the hip. Cancer visited his family again nine years later, when, in a three-month span in 2012, both his mother and uncle passed away after short battles with different forms of the disease.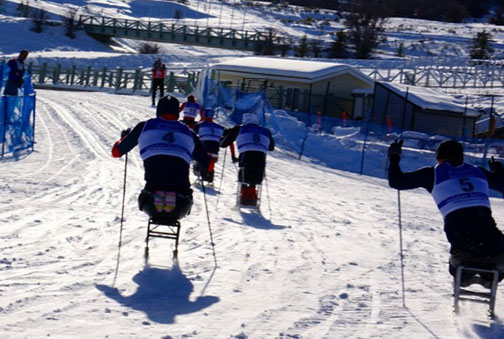 Only two years after losing his leg, with a remarkably positive outlook and a fighter's mentality, Perez focused on becoming a world-class wheelchair curler. After competing in the sport at the 2006 Paralympic Games in Torino, Italy, Perez was the first wheelchair athlete to be named USA Curling's Male Athlete of the Year in 2008.
Still, with his background on the soccer field growing up in Madrid, Spain, he felt an urge to transition to more physically demanding competition, setting his sights on Nordic (long-distance, cross-country style skiing) and the biathlon. He was invited to team camps in 2011, and says the decision to try these new sports had to be made quickly. With his diagnosis, Perez's life expectancy was cut dramatically short.
"I teach my kids that it doesn't matter what life throws at you," Perez says. "One of the reasons, too, why I still train and compete, is to show my kids that you can basically do whatever you want. It doesn't matter if I have a cancer diagnosis."
Looking for more adaptive sports events near you? Visit the SPORTS 'N SPOKES event calendar for the latest details at: http://pvamag.com/sns/community/calendar/
Additional Resources From Wheel:Life on Relationships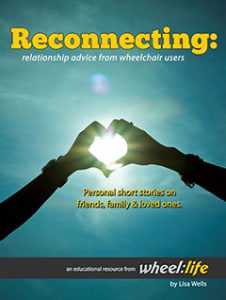 Within Reconnecting: Relationship Advice from Wheelchair Users, readers will hear from people who use wheelchairs as they share their perspective on friends, family and relationships including dating, marriage and parenting.
Author Lisa Wells shares real-life examples and success stories throughout the book based on her lengthy career that includes ongoing interactions with disability advocates, non-profit supporters and peer support group members.
Reconnecting: Relationship Advice from Wheelchair Users features interviews with:
Graduate student & quadriplegic Ather Sharif about connecting on a college campus
Amputee Thomas Morris on connecting through his unique appearance and personality
NSCIA [Buffalo, NY chapter] President Natalie Barnhard who connects Wheels with Wings
Paraplegic Todd Robinson who explains his family connection through the joy of adoption
Quadriplegic Ashleigh Justice who connects on the quad rugby field and as a young mother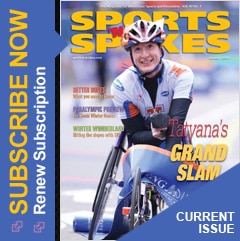 About S'NS Magazine
SPORTS 'N SPOKES is a bimonthly publication produced by the Paralyzed Veterans of America. S'NS reports on competitive sports and recreation for wheelchair users. Since 1975, S'NS has been a leader in wheelchair sports coverage and currently goes to more than 43 countries worldwide. Our readers come from all walks of life all having one thing in common: determination! SPORTS 'N SPOKES is committed to providing a voice for the wheelchair sporting and recreation community.  Visit www.sportsnspokes.com to view the latest issue.