Extreme Wheelchair Sports: BASE Jumping with Lonnie Bissonnette
Editor's Note: Our friends at SPORTS 'N SPOKES magazine are sharing a series of articles with Wheel:Life to help you discover and enjoy wheelchair sports! We'll be posting the highlights with a link to the full story below. 
Lonnie Bissonnette first made a splash onto mainstream social media sites in 2012 when he jumped from the nearly 900-foot New River Gorge Bridge in West Virginia.  Wheel:Life first had the pleasure of viewing Lonnie's stunts when he joined our photo contest during the 2013 Get Out, Enjoy Life Event.
While this may seem crazy to some, it's actually a sport known as B.A.S.E jumping, an acronym for four types of jumps off fixed objects — buildings, antennas, spans (such as a bridge) and the earth (such as the top of a cliff).
What makes Bissonnette stand out from the rest of the B.A.S.E-jumping crowd is he makes these jumps from the seat of his wheelchair. The 47-year-old Canadian extreme athlete has been skydiving for most of his life. In fact, it was this very activity that put him in his wheelchair in 2004 during his 1,100th BASE jump off a 468-foot bridge.
But that didn't keep him from returning to the sport of sky diving and stepping it up a level to include wheelchair B.A.S.E-jumping. Bissonnette has more than 22 years of skydiving experience under his belt, holding a skydiving certification, and made more than 1,500 jumps prior to his injury. Despite his rich history in the sport, a lot of planning, designing and wheelchair modifications had to be accounted for prior to his first wheelchair B.A.S.E-jump.
See what Lonnie is planning on jumping off next!  Read the full story here.
Looking for more adaptive sports events near you? Visit the SPORTS 'N SPOKES event calendar for the latest details at: http://pvamag.com/sns/community/calendar/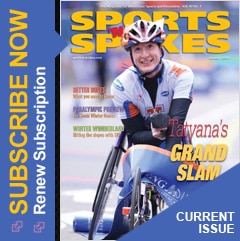 About S'NS Magazine
SPORTS 'N SPOKES is a bimonthly publication produced by the Paralyzed Veterans of America. S'NS reports on competitive sports and recreation for wheelchair users. Since 1975, S'NS has been a leader in wheelchair sports coverage and currently goes to more than 43 countries worldwide. Our readers come from all walks of life all having one thing in common: determination! SPORTS 'N SPOKES is committed to providing a voice for the wheelchair sporting and recreation community.  Visit www.sportsnspokes.com to view the latest issue.