ElDorado Mobility Donates Accessible Van to Lori's Voice, Helping Michigan Families with Disabilities
ElDorado Mobility, one of the nation's leading manufacturers of adapted vehicles, is a strong community supporter and often participates in community events that strengthen resources for organizations that serve people with disabilities.  During National Mobility Awareness Month this past May, ElDorado was a key partner of NMEDA's Local Heroes Contest that awards a free accessible vehicle to three deserving families or organizations that included Lori's Voice.
ElDorado Mobility is part of the REV Group, whose mission is to "connect and protect" people all over the world every day.  From fire trucks to ambulances, school buses to mobility vehicles, REV companies innovate, design and build products that connect and protect thousands of people every day. REV owns 26 brands including ElDorado Mobility, employs more than 6,000 people in 16 different plants in the U.S. and produces more than 20,000 specialty vehicles annually.
Based in Salina, Kansas, ElDorado vehicles are built to the highest quality standards, with features that stand apart from the competition.  For example, they have the industry's only full stainless steel floor with a 7 year/70,000 mile no-rust warranty.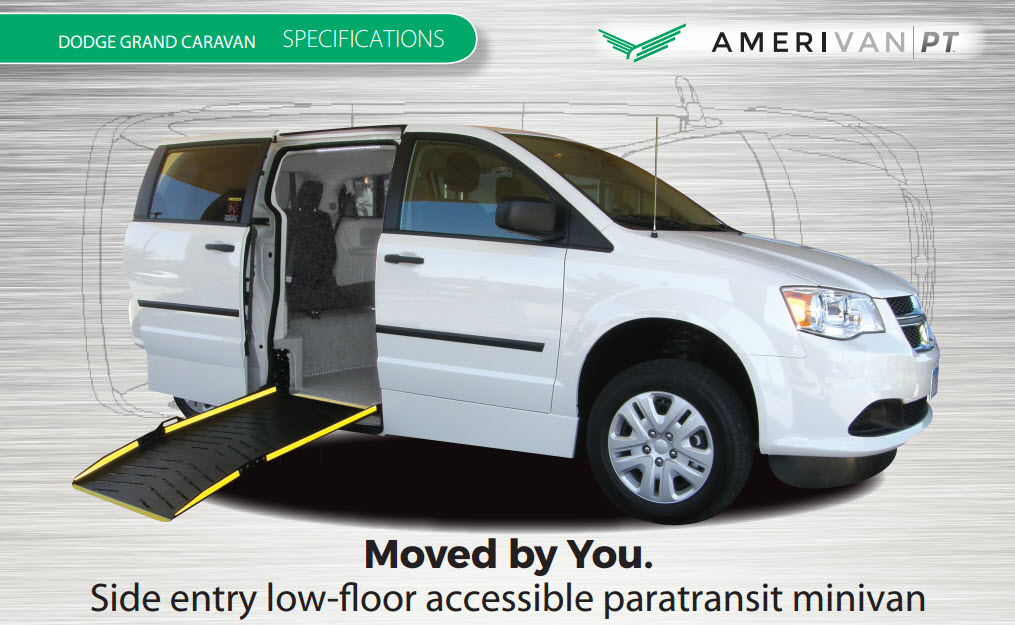 ElDorado Delivers Accessibility to Michigan's Local Hero: Lori's Voice
This year's accessible van winners in the NMEDA's Local Heroes Contest included the family that started Lori's Voice – a non-profit in Coopersville, Michigan that helps raise money for special needs children under 18 and assist families with medical expenses that insurance doesn't cover.  Created in 2012, the purpose of Lori's Voice is to provide equipment, educational resources, and medical assistance to children with neuromuscular and other degenerative diseases.
Lori's Voice evolved from Lori Hasting's great love for children and the realization of so many challenges young people face when living with a disability.  Living with a disability herself – Muscular Dstrophy – Lori understands the medical needs that are not covered by insurance.  Her husband, Dave Hastings, runs the day-to-day of the organization.
Lori's Voice takes great pride in the fact that the entire organization along with their fundraising activities is completely handled by volunteers. No one at the organization takes a salary.
USA Today recently spotlighted their efforts:
Lori's Voice was nominated to win the van during the Local Heroes contest put on by the National Mobility Equipment Dealers Association by their daughter Valerie.  Valerie submitted the nomination, revealing that her parents lift van had been "slowly falling apart".
Valerie writes: "My Mom Lori has Muscular Dystrophy. She's had an uphill climb in life but met the challenges head on with faith and a positive attitude. My parents were married in 1983. In 2012, Dad also became ill and was diagnosed with Multiple Sclerosis and forced into early retirement with a lower pension plan. His Multiple Sclerosis came with additional challenges, medical expenses, and major health risks."
The Big Day for Lori's Voice: A New Accessible Van from ElDorado Mobility
ElDorado Mobility was thrilled to deliver a brand new, wheelchair accessible van to the excited team at Lori's Voice, and FOX 17 News was there to capture the memorable moment:
"Dave and Lori have helped so many children with disabilities through their foundation, and we are so happy to welcome them to the ElDorado Mobility family.  We hope the van will make their travels a lot easier as they continue with the important work they are doing," said Jack Johnson, ElDorado Mobility's Marketing & PR Manager.
"We are pretty excited about it. It is just one of those opportunities for us to continue doing what we do," Dave told FOX 17 News. "Kind of paves a road for us to continue to keep doing what we do at Lori's Voice."
"When they called me and said we won, I was in disbelief. I thought it was a prank phone call," Dave continued. "We never expected a reward like this, it is all about giving and we are on the giving end. It has really humbled us."
To learn more about Lori's Voice, click here. If you know of a child with a neuromuscular or degenerative disorder who may benefit from their programs, please see their Application for Assistance.
Connect with ElDorado Mobility
Wheel:Life encourages you to explore the available options in custom van designs offered by ElDorado Mobility. "Mobility vehicles are designed to meet a wide variety of mobility needs, with versatile removable seating and maximum space for wheelchair maneuverability.  Your local dealer will work closely with you to customize the vehicle with additional equipment such as transfer seats, hand controls, and other specialized equipment," Johnson explains.
If you'd like to meet the ElDorado Mobility team, follow them on Facebook or visit with them at Abilities Expo events taking place nationwide!  The next Abilities Expo happens in San Jose on Nov. 18-20, and admission is free. Get your complimentary ticket at www.abilities.com.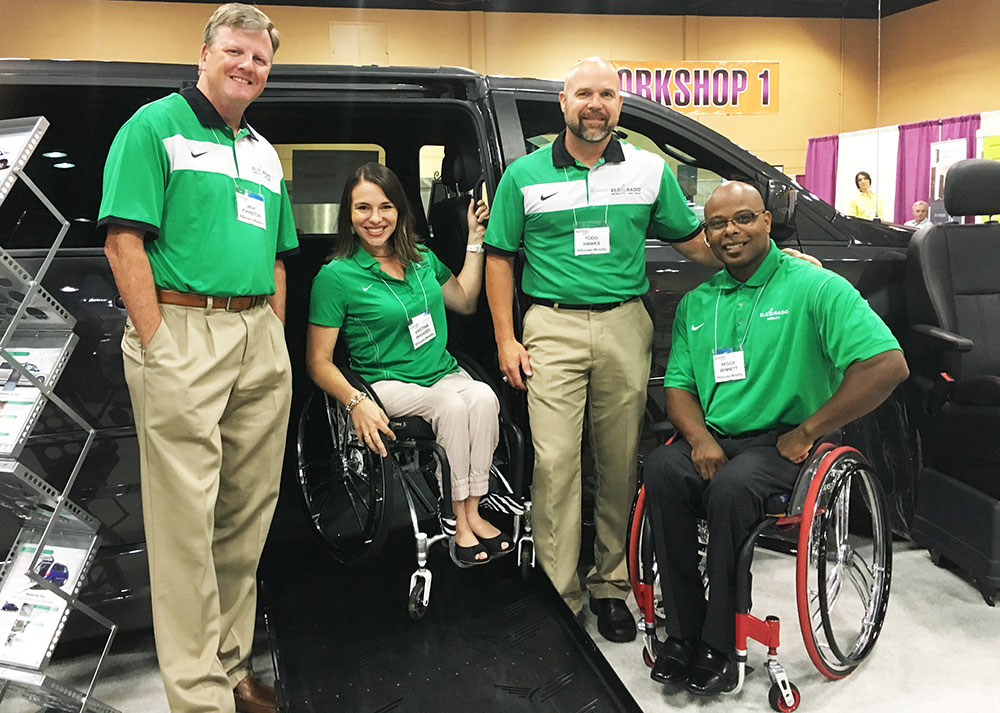 About ElDorado Mobility


At REV Group, our customers' stories move us every day, especially at ElDorado Mobility. We know every mobility van has one purpose — to connect wheelchair users to their world — and it's this mission that inspires our every innovation. The difference can be seen in our thoughtful features. We offer the industry's widest foldout ramp, featuring a 1,000-lb. rating, aircraft-grade aluminum and an integrated air ride suspension with kneeling system. Plus, you're protected with the industry's only all-stainless steel floor and a seven-year/70,000-mile warranty.
Visit our website to find your nearest ElDorado dealer and schedule an at-home demonstration today! Learn more at http://eldoradomobility.com.
More Fundraising Help from Wheel:Life
In this book, you'll review 10 brainstorming ideas for different types of fundraiser events to benefit an individual with a disability who needs assistance for medical equipment, physical rehabilitation, adaptive sports equipment or daily medical needs.
Throughout the book, author Lisa Wells shares real-life examples and success stories from her interactions with disability advocates, non-profit supporters and Wheel:Life members throughout a healthcare marketing career that spans more than 20 years on three continents.
10 Fundraising Ideas to Help People with Disabilities features interviews from:
• Paralympian Bert Burns on how he raised support to begin his career in wheelchair racing
• Project Walk Atlanta participant Leslie Ostrander on how she raised money for additional rehab
• The founders of 100 Songs for Kids on their annual music event to benefit children's medical charities
• Rolling Inspiration creator Chris Salas on how he lined up sponsors for his SCI peer support group
and power soccer team
• The creators of Hunter's Torch Daylily Garden, a fundraising resource for a child with special needs.
• The Independence Fund – a little known source of financial support for disabled US veterans.