Editor's Note:  Both Donna Russo and Peggy Lane have been involved in the entertainment industry for the majority of their lives. Russo, who lives with Turner syndrome and facioscapulohumeral muscular dystrophy, has a degree in dance, toured with 'Alvin and the Chipmunks,' and has appeared in several TV shows and films. Lane modeled as a child, studied dance and music, and has worked behind and in front of the camera on series like 'Seinfeld' and 'Will & Grace.' When the two of them went shopping together one day, the frustrating yet comedic events that occurred resulted in an idea for a television series that addresses the everyday struggles people with physical disabilities face. Wheel:Life writer Betsy Bailey sat down with Russo and Lane at Abilities Expo Los Angeles to talk about 'Donna On The Go.'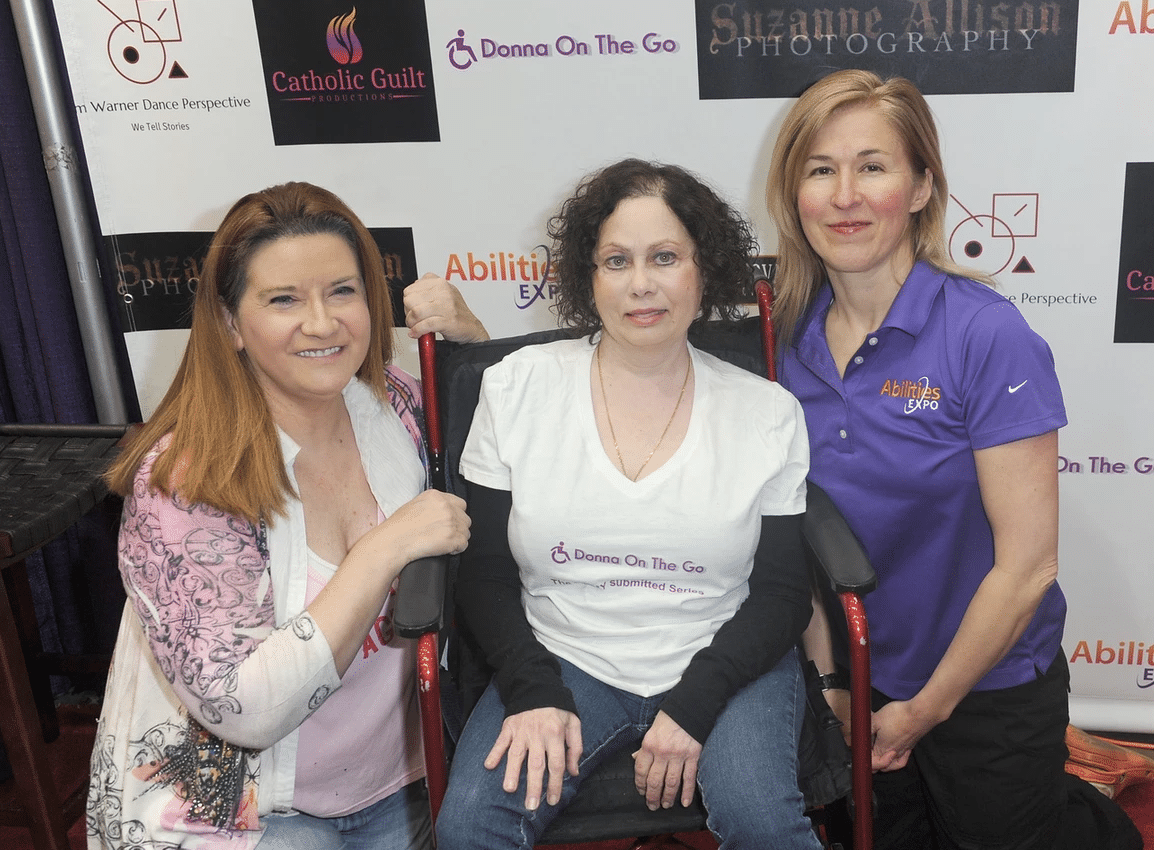 How did the idea for Donna On The Go come about?
Donna:  Peggy had the idea for a show after we went to Target one day. The electric carts they have don't always register my weight because I'm so light. That makes it hard to get them to work correctly, so I was crashing into things. Peggy decided to film all of this, and when we took it home and watched it, we both laughed. Peggy said, "Wow! This could be a show!" So we went with it!
Editor's Note:  Short stature is a common feature among women with Turner syndrome.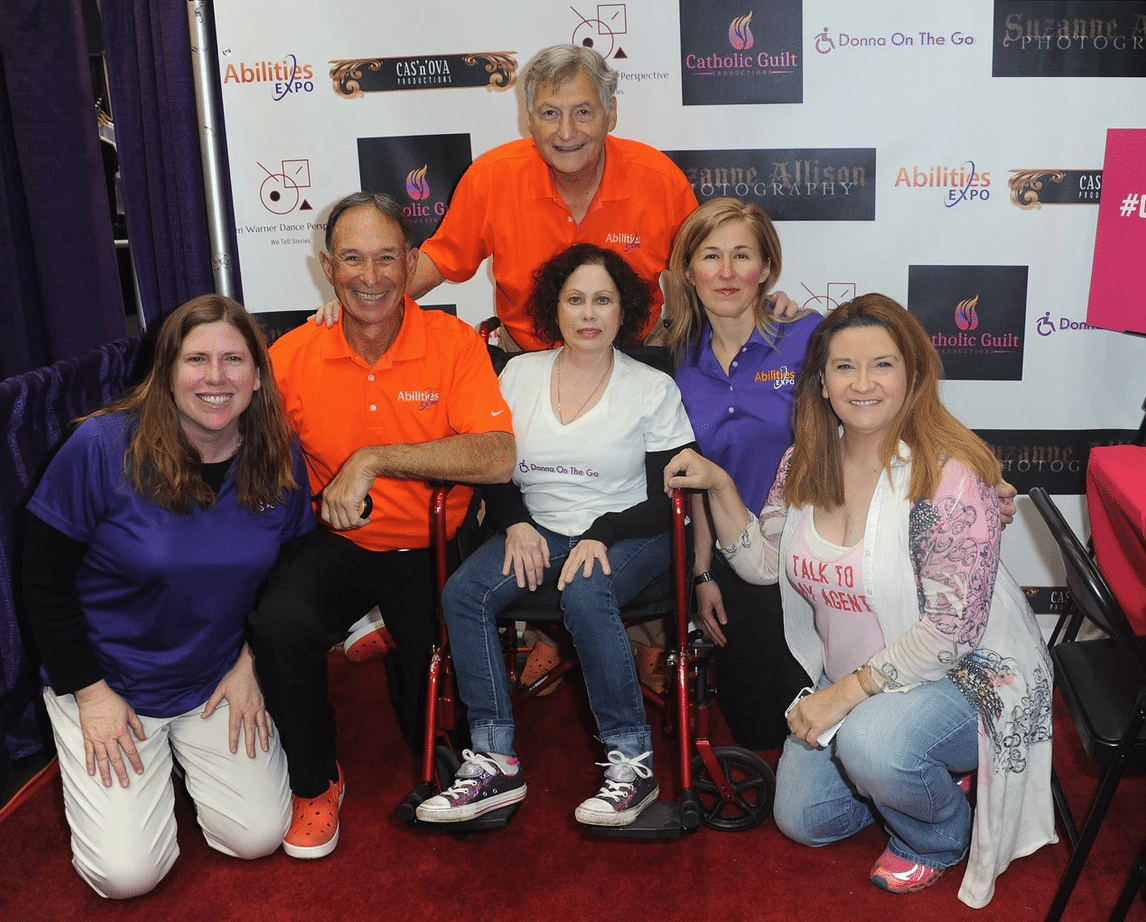 How long ago was the Target incident?
Donna:  That was almost three years ago. We're in our third season now, and there are six episodes each year. It's really fun.
Which videos have been the best received?
Peggy:  One of our most viewed videos is "STAIRS." Donna had told me that when she approaches stairs, it looks like a mountain to her. So, I shot this staircase to look like a mountain, and way down on the other side of the building is the accessible ramp. I scored it to the Pink Panther theme song, and with her walker, Donna slowly begins the arduous journey up the ramp to the door. It took 24 minutes. During that time, we happened to see a delivery guy hop up and down the steps within a few seconds. To make the point, we started shooting in daylight, and it actually turned dark by the time Donna got up the ramp. When we talk about and show the episode at Abilities Expo, so many people relate to that experience.
We're trying to make it light and funny, but we also want to make a point.
Donna: We also have an episode called "GARAGE" where someone parks in a space reserved for handicapped parking. The show is about how you feel when you can't park your car in your space and how hard that is for people who really need that spot. It's a great episode to get that point across.
What other issues are tackled in Donna On The Go? 
Donna: We did an episode called "FALL" where Donna has two friends that help her when she falls. The episode portrays the vulnerability you experience when you fall, and then how you feel when people come and help you. It's a wonderful episode.
Peggy: You could structure a show like "FALL" in many ways. You could end with the fall and have people thinking, "Oh, isn't that sad." But, my point of view is that people will help you as long as you have some kind of support system, friends, family, or even an Alexa to be able to call somebody.
There's always some way to have help and know that you're not alone. That's the point of the show.
How does your past experience in television help with Donna On The Go?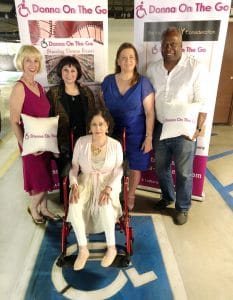 Donna:  Peggy produces, directs, edits, and promotes Donna On The Go. She's a wonderful publicist, and she also does all of the social media. She has worked on shows like King of Queens, Seinfeld, and Will & Grace, so she takes all of that experience and brings it with her to Donna On The Go.
Peggy:  I learned the tone we're going for, teaching people with humor, on Will & Grace. I was with this particular camera crew with the legendary director Jimmy Burrows, and we worked on several shows together. When we got on Will & Grace, there were some crew guys that weren't all that thrilled with the theme of the show. It was coming off the heels of Ellen which was a success, but they didn't think anyone could pull off something like Will & Grace. About five episodes in, there was a Halloween plotline where Jack meets a guy. In the end, it didn't end up working out between them, and the crew guys, just a few weeks after not being thrilled with the theme, went, "Aww." And that's when I thought, "They did it!"
The show worked because the writers made the audience care about the characters, and they made it funny.
That's my goal with Donna On The Go.
What are your plans for the future of Donna On The Go?
Peggy:  I want to pitch the show to Amazon and Netflix, but I need to build the subscriber base on YouTube first. If anyone would like to watch us on YouTube and subscribe, that would be really helpful. We submitted the show for eight Emmy nominations last year. I'm not messing around. I'm going to get this going!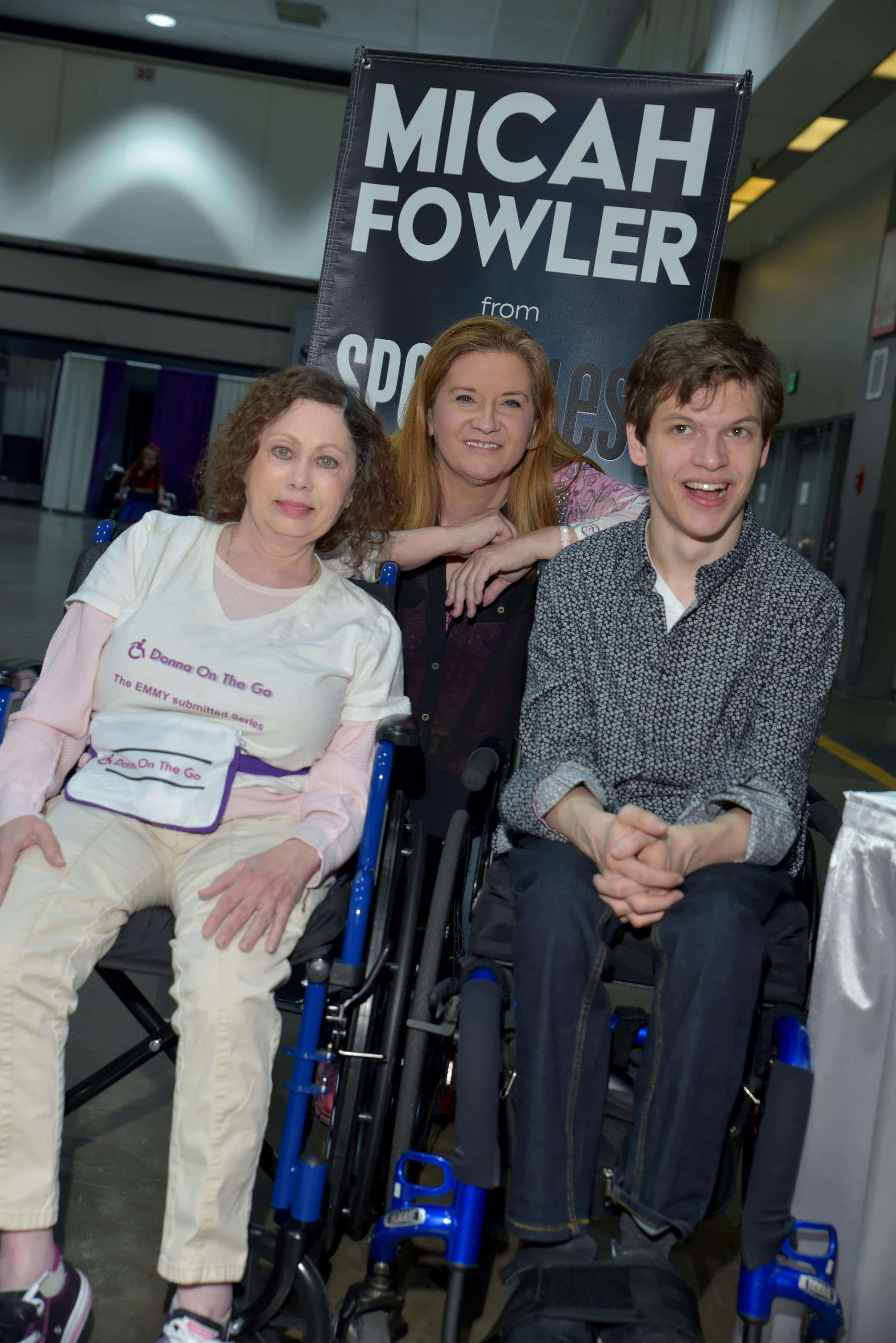 I'd also like to get famous actors and actresses involved. My goal is to do something like Speechless on ABC. It has a wide outreach and is able to touch and educate people with humor.
Donna:
That's what we want to do:  educate, create awareness, and entertain.
Editor's Note:  All 'Donna On The Go' episodes are available for free on the YouTube channel and Donna-on-the-go.com. Don't forget to subscribe to the YouTube channel to help build the viewership base. You can also follow along on Facebook @DonnaOnTheGo.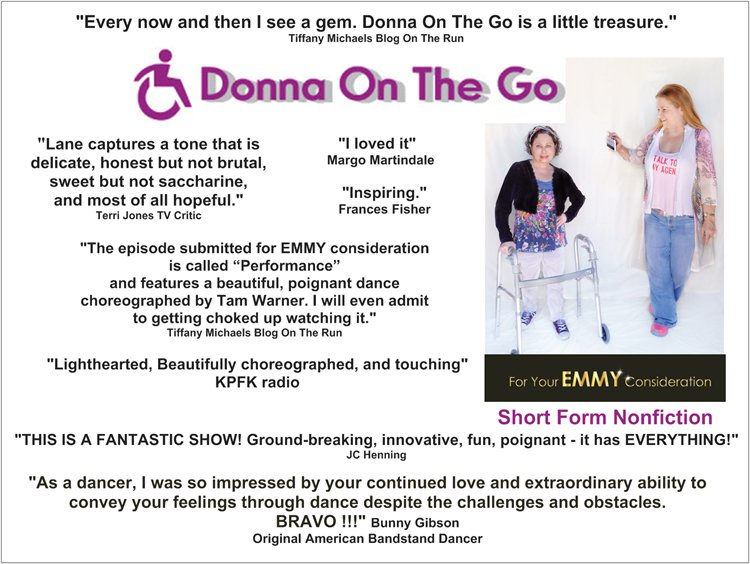 About the Author
Betsy Bailey has a diverse background that includes experience in marketing research, business operations, travel and culinary writing, and playing volleyball professionally overseas.
Betsy has been writing for Wheel:Life since January of 2017 and thoroughly enjoys the process of getting to know her interviewees. She also teaches students learning English as a second language, speaks French fluently, and travels any chance she gets!