Paralympian Angela Madsen's Outstanding Spirit & Determination
How do you handle waking up to find yourself living in a bad dream? Do you spend a lifetime mourning what could have been, or do you create a better ending?
The popular e-book entitled  COURAGE: Stories of Hometown Heroes shares stories of people who have found success after a life-changing event like spinal cord injury, including the personal account of internationally-known Paralympic athlete Angela Madsen. An excerpt of her story is below.
Angela Madsen, a top-level basketball player at the time of her injury, had no idea what lay ahead as she would become homeless, face death and then reach the pinnacle of endurance and speed in her chosen sport after spinal cord injury. Madsen's philosophy is to never allow her disabilities to stop her.
Madsen explains that after her injury occurred while she was on active military duty, "I was no longer on the basketball team, and I could no longer work with the Military Police. Finally, I was discharged with the diagnosis of being a chronic-pain patient. Eventually I'd have spinal degeneration and would need more surgery at some point. I wasn't even able to support my daughter anymore. At that time, I thought I'd hit the bottom. But I learned later that bottom was much deeper than the terrible circumstances I was in at that time. I knew that every time I'd been knocked-down, I was able to get back up again. So, I believed that my life and my situation would get better."
Madsen goes on to explain, "The first couple of years after I got out of the hospital, I started putting-on weight and weighed 350 pounds, and I was stuck in a 27-inch wheelchair. That's when I considered suicide. I was ready to end it. I was pretty pathetic, and I was angry with the doctors and everyone else."
"At that moment, some of the guys at the hospital encouraged me to go to the National Veterans Wheelchair Games," Madsen reports. "That was the first time I'd returned to any type of sports, and it made all the difference."
"So, I got a basketball wheelchair from the VA and bounced around between a couple of teams. While I was playing with one of these teams, they also had an outdoor adventure program, which is where I learned to row."
"After rowing across the Atlantic in 2007, I made the Paralympics team in rowing. So, once again I'd reached the elite level of a sport. After the Paralympics in 2008, I was asked to skipper a boat going across the Indian Ocean. I was the first of two women, along with Helen Taylor, to do it."
"I've rowed across all the oceans except the two Arctic Oceans and the Pacific. I've made the Paralympics team for track and field, shot put and javelin. I've done three ocean crossings, and I've circumnavigated Great Britain in a rowboat."
Besides accomplishing numerous other rowing feats, Angela also is the recipient of the Amateur Athletic Foundation's Women Who Inspire Us Award and the Leo Reilly, Jr., Award for outstanding spirit and determination.
Madsen explains, "It's hard to see how an injury like this is a blessing and how it can be a positive course in your life. You can't achieve anything as long as you see your injury as an anchor you have to drag. My injury has absolutely been a blessing to me. It has shown me how to be a more positive person and how to reinvent myself."
Read the rest of Angela Madsen's personal story of success after spinal cord injury in John Phillip's book COURAGE: Stories of Hometown Heroes, available on Amazon for Kindle and iPad at:http://www.amazon.com/Courage-Hometown-John-E-Phillips-ebook/dp/B007WU2RX4/ref=sr_1_2/191-4092788-4061137?s=books&ie=UTF8&qid=1388909548&sr=1-2
About COURAGE: Stories of Hometown Heroes
Christine Kent was shot twice, run over once and thrown in the bushes behind her house. The fact she survived was a miracle, but to show the true courage of people like Christine, she not only survived but today competes in marathons with her handcycle.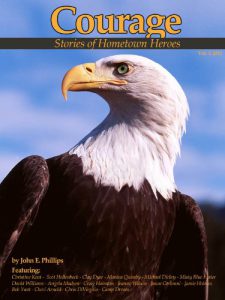 Scot Hollonbeck dreamed of one day competing in the Olympics, representing his country and winning a gold medal. While riding his bicycle at 14-years old, Hollonbeck was 200-yards from his house when a drunk driver in a van crashed into him going 60 mph. You would expect that Hollonbeck's dream of becoming an Olympian was over, but he trained diligently for 8 years, went to the 2000 Summer Olympics and represented his country in the men's 1500-meter wheelchair race. At the 2004 Olympic Games, he finished 4th and eventually won a total of two gold medals and three silver medals for the USA.
The last thing you ever would expect from a man born with no hands, no feet, no legs and only a partial right arm would be for him to become a tournament bass-fishermen. But today, Clay Dyer drives a high-performance bass boat at speeds up to 70 mph, casts a bass rod with precision accuracy, takes his lures out of his tackle box and ties them onto his line with his mouth and competes with the best bass fishermen in the world. So amazing are his accomplishments, he's been featured on ESPN.
This book is full of inspirational stories about some of the most-courageous, unbelievable people you ever will meet, who have overcome tremendous odds to become the best they can be. These people are not only hometown heroes, their lives demonstrate lessons in courage, stamina, dedication to purpose and the never-give-up attitude that all of us admire and want to emulate. Any time you think you have a problem or feel that life has dealt you a bad hand, read the stories of these incredible people.
Get your copy here.
About the Author: John E. Phillips
For the last 12 years, John E. Phillips of Vestavia, Alabama, has been a professional blogger for major companies, corporations and tourism associations throughout the nation. During his 24 years as Outdoor Editor for "The Birmingham Post-Herald" newspaper, he published more than 7,000 newspaper columns and sold more than 100,000 of his photos to newspapers, magazines and internet sites. He also hosted a radio show that was syndicated at 27 radio stations; created, wrote and sold a syndicated newspaper column that ran in 38 newspapers for more than a decade; and wrote and sold more than 30 books. Learn more at www.johninthewild.com.